Make Money Online!
Hi, I'm Ben and I own Create a Great Website! I'm currently earning well over $1,500 plus per month online in my spare time, and I want to show you how you can do the same.
Fill out the form below and I'll send you my free guide to create a great website and how you can earn money online just like I do! You won't be disappointed.
Make Money Online!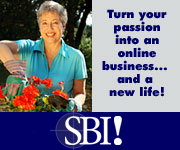 [
?
] Subscribe To This Site
Dreamweaver CS5
Opening a Template
This tutorial will illustrate opening a template in Dreamweaver CS5.
When it comes to opening a template there are a few options.
First of all, we can choose Open from the File menu.
This brings up the Open dialog. Browse to the correct folder, find the template and select it. Note that if you are looking in a folder with a lot of files, you can set the File Type to Template Files (*.dwt) as shown here to filter the search.
Click Open and the template is ready to work on.
A good way of opening a template is to use the Assets panel. (If you need to open the Assets panel, use the Window menu.)
One of the categories in the Assets panel is Templates.
Select the Templates category and the site's templates are listed.
Double click on the required template and it opens.
There are, of course, the usual alternatives, such as File Open Recent for a template you've worked on recently.
A particularly useful feature, though, is this. Here I have a page open that was built using the basic template for this site.
Select the Modify menu then hover over Templates.
Select Open Attached Template and the template on which it is based is opened.

More Dreamweaver CS5 Tutorials
All Dreamweaver CS5 Tutorials - Will be complete by Januay 2011.
Buy Dreamweaver CS5
Find this website useful?
It will appear on your page as: Opening a Template in Dreamweaver CS5
This site proudly build with Site Build It!