Make Money Online!
Hi, I'm Ben and I own Create a Great Website! I'm currently earning well over $1,500 plus per month online in my spare time, and I want to show you how you can do the same.
Fill out the form below and I'll send you my free guide to create a great website and how you can earn money online just like I do! You won't be disappointed.
Make Money Online!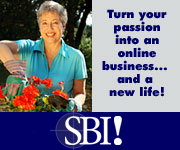 [
?
] Subscribe To This Site
Section Navigation :
Website Objectives
If you want to know when you're website is successful, you must develope a set of website objectives.
Before you begin building anything, consider the purpose of your website and the website objectives. You must define what you want to do.
Begin with the end in mind. Why are you building your website? What do you want it to do? Who will visit your website? What will they do while they are there? What action to you want them to take once they have found your website?
There are many reasons to build a website. You may have a product or service to sell. Maybe you're just trying to provide information about something.
Perhaps you are trying to teach something or persuade someone to do something. Maybe you're trying to make extra income from providing information or selling ads on your website.
Beginning with the end in mind, you can define what you want from your website and begin working backwards on identifying what you will need to do to accomplish those objectives. You need to boil it down to a few objectives - the purpose of your undertaking.
You can put your objectives in one word: Why, Who, what, and How
Why do I want a Website?
Your first question should simply be "Why do I want to create a Website? Try to think of all the reasons and write them down in a list. Begin with general statements and move toward more specific ones.
For instance you may want to...
Communicate and express yourself... or
Sell a product or offer a service... or
Explore a new opportunity, learn, experiment, challenge yourself... or
Connect and network with colleagues... or
Share information about a topic of subject that you know a lot about... or
Generate income from your website through Google Adsense or affiliates
Your second question... Who am I trying to reach?
If people choose to connect with our website, they probably do so because they want to. You're going to pull them into your site because they want to be there. You won't be able to force them to go to your website. Pull strategies on the Web do work.
What pulls people to your website and keeps them coming back is usually not because you happen to be selling a product or service, but because your offer a value-added resource. Think of what you have to offer and what you have to give. Target that relative to the audience you would like to attract.
The third question... What am I trying to Achieve?
This is different from the first question. This question focuses on the specific actions or results that you want to happen. For example, if you're trying to make money with Google Adsense, you want people to visit your website and click on Google ads that you've placed on the pages of your moneymaking website. Other examples might include wanting to facilitate communication with clients or potential customers, disseminate information, educate and inform the public, display your talents and skills, sell a product.
For the "what" question, you want to zero in on the specific actions or results you want to facilitate.
The fourth question... How do I want my Website to Implement my Why, Who, and What?
The "How" will be the actual form or forms that your website or pages will take to achieve the objectives you want.
Finally pull it all together into a single concise statement. Correlate the Why and the Who to come up with the What.
Let's consider an example of website objectives:
I wanted to build a website (Old-Woodworking-Tools.net) to share information about old woodworking tools and machines. Woodworking and furniture building has been a hobby of mine for many years. I used to teach furniture and cabinet making and I collect old woodworking tools and restore woodworking machinery. I have a lot of information to share.

In addition to sharing pictures of my tools and information about them, I also thought that I might be able to earn income from ads that I could place on my website. I could also become an affiliate for a company selling related products and I could earn a commission on sales from people who purchased through my website.

Visitors who find my website by using key words like table saw or Delta lathe in Google and other search engines, would find my site where they could get information about woodworking tools and machinery. Some of them will click on ads from Google that I place on the website using a program called Google AdSense. Each time a visitor clicks on an ad, I would earn a few cents from Google.

If I could get thousands of visitors to my website who would click on Google ads, I might earn a fair amount of extra income.
So the website objectives for my site were twofold:
To share photos and information about old woodworking tools and machines with others interested in woodworking, old tools, and woodworking machine restoration.
To generate income from Google AdSense and other monetization strategies by providing contextual ads that visitors might click on while seeking information on the website.
Your reasons for building a website may be similar. You might have a product to sell or you might have a lot of knowledge and information about a particular subject that you want to share with others. You may want to earn some extra income too! There is great potential in generating income from your web pages if you can build interesting pages with good content that will attract large numbers of visitors to your website.
Once you have established your objectives, you can begin working backwards and planning what you will need in order to accomplish them. Your objectives should drive the content and the design of your website.
If you liked this article, you might also some of the following articles interesting.
How to Link to This Page
It will appear on your page as: Website Objectives
Share this Webpage
This site proudly build with Site Build It!