Make Money Online!
Hi, I'm Ben and I own Create a Great Website! I'm currently earning well over $1,500 plus per month online in my spare time, and I want to show you how you can do the same.
Fill out the form below and I'll send you my free guide to create a great website and how you can earn money online just like I do! You won't be disappointed.
Make Money Online!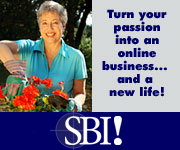 Choosing Website Topics
If you've been wanting to to build a website but are stuck on choosing website topics, this page will help you think about ideas for your website topics.
Sometimes you just draw a blank when thinking about website topics. It would be so nice to just think of a cool idea that would get thousands of visitors to your website and you'd make tons of money. Unfortunately it doesn't work that way unless your really lucky.
No matter why you're building a website, you won't get many visitors to see it if you don't have good quality content and lots of it. That makes choosing the best website topics an important decision.
If you're hoping to make money from your website, you'll have to have good content or the search engines won't send their visitors to your website. Search engines like Google or Yahoo don't want to send their users to junk sites with lousy poorly written content. People have favorite search engines because they like the results they get when they conduct an Internet search. If a search engine returns a list of websites with poor quality content, the user may go to a different search engine the next time. This is also why search engines really like sites with good content.
The better the information and quality content, the more value you provide, the more likely you'll get to the top of the search engine results and get more traffic to your site... and then you'll make more money if that is your goal.
Writing good content is a laborious and time consuming task. Your website topics should be something you are interested in and want to write about. It's been my experience that the best website topic for you is something that you're interested in and passionate about. That way it's easy for you to keep writing content for your website and you wont' get bored.
Getting website traffic doesn't happen over night. It's a slow process... think more about the tortoise, not the hare!
I'm a tool collector, woodworker, and technology geek, so the easiest topics for me to get excited about and motivated to write content for are in those areas that I'm interested.
My Old-Woodworking-Tools site is easy to write content about, because woodworking and tool collecting is one of my favorite hobbies. GuidesandTutorials and Digital-Video-Editing are also interest areas of mine as an educator and trainer. These are all topics that I'm interested in and passionate about so it's easy for me to write the content for these websites.
It's much easier to write a lot of content on a website topic that you are interested in than one where you have to do a lot of research or thinking about and don't really care about.
Your goals and what you want to accomplish with your website will also have a lot to do with the topic you choose.
The complexity of your website will also have a lot to do with your topic. There are two types of websites: Static and Dynamic. Dynamic sites are typically database driven and require complex programming knowledge and database resources.
Most beginners have a hard time just learning to code a plain HTML web page. Your website doesn't have to be complicated and require complex programming to make money or to present good quality content to your visitor.
Creating dynamic websites takes expensive programming time and even those sites don't do well without good quality content.
Money Making Website Topics
You can create effective money making websites with simple static but well written content. Static content means that it stays the same until the web page is revised or updated. The content is written into the web page as opposed to coming from a database. Static sites are also usually listed higher in Google search results which is what you're most interested in doing.
My website are ones that I am interested in writing about. They are simple static pages that don't involve a lot of programming or complicating scripting. They have good keywords associated with them and I make money from the Google Ads on the pages as well as affiliate programs that I'm associated with because they have good content and generate fairly good traffic.
I'm not getting rich with them yet, but I'm generating a nice supplement to my income each month.
If your content is good, you too can earn income from Google Adsense ads on your site. You could also affiliate yourself with companies that sell merchandise or services that are related to the content on your website.
The ads and affiliate products are targeted at the visitors to your site because they are related to the search terms your visitor used to find your website. If they were already looking for information about table saws and your website provided that, it's not a stretch to see why they might click on ads for table saws or related merchandise that appeared on your website.
Your visitor is already someone interested in the ad because they searched for information using the related search terms that enabled the search engine to find your website.
In addition to Adsense, there are thousands of companies that offer affiliate programs. For example, my Podcasting Tutorial on my GuidesandTutorials website, features links to podcasting microphones, books, and equipment from other retailers.
When someone visits my website and clicks on an ad or purchases a microphone or other podcasting equipment, I earn an commission on the sale through the affiliate program. The more visitors you get to your site, the more likely you will get a lot of clicks and the more money you will earn.
Once you register as an affiliate, they provide you with all of the ads and code to place on your website so you get credit for any clicks and purchases the visitor to your website makes. The affiliate will usually send you a check at the end of each month or after you've accumulated a minimum amount of sales commission.
Affiliate and Google Adsense sites are much less expensive and easier to create than complicated dynamic websites. The search engines usually like them better too!
There are many ways to create your own static HTML website. You could use a website development tool like Dreamweaver or CoffeeCup to create your pages.
If you don't have the knowledge or sills to use an HTML editing tool like those you could create your website using Site Build It!, which enables you to create a website without knowing anything about HTML or website coding. That way you can focus on creating good quality content and making money, not on the technology.
Site Build it will really help you focus your efforts on making money with your website

If you liked this article, you might also some of the following articles interesting.
How to Link to This Page
It will appear on your page as: Website Topics
Share this Webpage
This site proudly build with Site Build It!